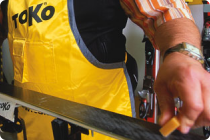 Wax Clinic December 17th
It was a full house this past Wednesday for the year's first ski waxing clinic. 8 participants learned classic and skate waxing techniques while they prepared their own skis for the season.
A Big thank you to Algoma Bicycle Company for sponsoring the event and providing a wide range of excellent Toko wax products for demonstration.
Also a big thank you to the 2310 Cadet Corps Biathlon Team for graciously providing extra wax irons, brushes and scrapers so we had enough tools for everyone. The event would have not been a success without your support.
Stay tuned – dates will be set for a second clinic after Christmas. Dates and details to follow.
See you on the trails!
Peter