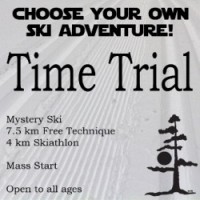 On Saturday, February 28th following the Racing Rocks! event, SFNSC will be hosting the "Choose Your Own Ski Adventure" time trial.  This will be a mass start format and participants will start from the ball field by the KinCenter at 12:25 pm.
This time trial is

open to all ages

and participants can register in one of the following three categories:
Mystery Ski:  This category allows participants to time themselves around whatever distance/trail they wish to ski.  Your time will be posted, but the distance you ski will be a mystery to the rest of us .  There will be no placings, but participation ribbons will be awarded at the Club Banquet on April 7th.
4 km Skiathlon:  Participants will ski one lap around the 2 km Kinsmen trail using classic technique, and on the second lap they can ski free technique.  An area will be set up for participants to switch skis between laps. 
7.5 km Free Technique:  Participants will ski the Crystal Creek trail plus the Olympic extension using free technique.