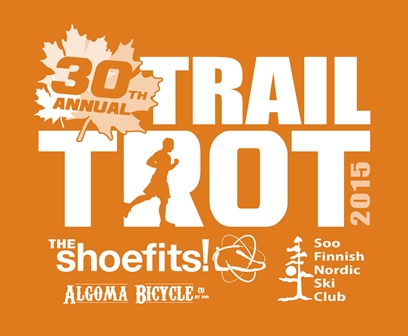 Registration is now open for the 30th annual Trail Trot will take place on Sunday, September 27.
For 2015, the race venue will return to Kinsmen Park.
The 2 km race will start at 1 pm and the 5 km and 10 km races will start at 1:45 pm.
The 2 km event will take place in Kinsmen Park on the Kinsmen Loop.  The 2km trail is mainly flat with one small hill.   The race starts and finishes in the ball field area behind the Kinsmen Centre.
The 5 km and 10 km events will take place on the Pinder and Sugar Bush trails.  The races start and finish in the parking area at the Trailhead across the road from the Kinsmen Centre.  The 5 km race will be one lap around the trail and the 10 km race will be two laps around the trail.  The trail is mainly flat, with two gradual hills.  There will be one water station mid-way through the 5/10 km trail.  Post race refreshments will be available near the finish line.
Entry Fees
On or before September 18
2 km $6 (does not include T-Shirt)
5 km & 10 km $25 (includes T-Shirt)
September 19-27
2 km $11 (does not include T-Shirt)
5 km & 10 km $30 (includes T-Shirt while quantities last)
Awards
1st overall Male and Female 2 km, 5 km, 10 km
1st, 2nd and 3rd Male and Female in each group
Race Kit Pick-up and Late Registration
Saturday, September 26, 2015
Race kit pick-up and registration will be available from 1pm until 4pm in front of the Shoe Fits (formerly the Athlete's Foot) in Station Mall on Saturday, September 26.
Sunday, September 27, 2015
Race kit pick-up and late registration will also take place at the Soo Finnish Nordic Ski Club's clubhouse (blue building) on Landslide road on race day, Sunday, September 27.
The registration desk will open at 11:00 am on race day, September 27.
Late registration will be accepted up to 45 minutes prior to the start of each event.
Please pick-up you race number at least 30 minutes before the start of your race.
Register early!  Prices increase on September 19 and T-Shirt availability may be limited.
Start Times
2 km 1:00 pm Start
5 km 1:45 pm Start
10 km 1:45 pm Start
Brochures with information and a registration form have been distributed at various locations around town including, The Shoe Fits, Algoma Bicycle and Velorution.  Brochure and registration form.
Online Registration
Register online through Zone4
Those registering online must sign a release form at the race site on race day.
Elementary School Teams and High School Teams
Please contact the race organizers at trailtrot@gmail.com for information about team registration.