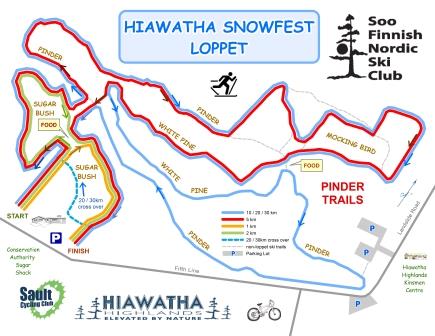 The Hiawatha Snowfest Loppet will take place on Sunday, January 24, starting at 10am.  This fun event will take place on the Pinder system trails and will start and finish at the Conservation Authority Sugar Shack.
WHAT IS A LOPPET?
This loppet is a not a race! Its for FUN! There will be bibs, but no timing!
It is a mass participation event where you choose the distance, classic or skate, and the pace! A PERFECT FUN SKI FOR FAMILIES!!!
Ski or bike with your family & friends for the JOY of it!
Ski or bike for a CHALLENGE and a new EXPERIENCE!
THE DISTANCES
SKIERS – you choose 1K, 2K, 5K, 10K, 20K, or 30K
BIKERS – you choose 10 or 20 K
For 20 and 30K, you ski or bike the 10K loop 2x or 3x.
THE COURSE
All distances will use the Pinder System and it's loops in the REVERSE DIRECTION to normal, with some additions and changes to the standard trail.  See the course map above or download the pdf version Loppet Map
THE TRAIL WILL BE GROOMED FOR BOTH SKATE AND CLASSIC TECHNIQUES…YOU CHOOSE!
THE START
The loppet will start in the Conservation Authority's equipment yard (at the west end of the CA's parking lot).
START ORDER –
SKIERS 10:00am – 10/20/30K skiers
10:05am – 5 K skiers
10:10am – 2 K skiers
10:15am – 1 K skiers
BIKERS 11:00am – MASS START, with longer distance riders at front.
THE FINISH Right beside the Sugar Shack! All participants will receive a commemorative medal at the finish line.
REFRESHMENTS
WARM GRAPE JUICE (a Finnish skiing tradition) and COOKIES will be served at 2 refreshment stands along the trails – one on the 1K and 2K loops, and one on the 5K, and 10/20/30K loops.
FINNISH PANCAKE BREAKFAST at the SUGAR SHACK from 10-2 is included in your loppet registration.   Non-participants welcome too, but must pay:
Adults – $8. Children 4-10 years – $5, Children 3 and under free.
REGISTERN ON LINE THROUGH ZONE 4 UNTIL FRIDAY, JANUARY 22 AT 6PM
LATE REGISTRATION AND BIB PICK UP
AT THE SUGAR SHACK FROM 9:30AM.