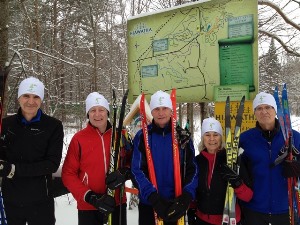 Pictured above from left to right – Grahame, Art, Wayne, Dee and Robert – Peter is missing from the picture.
When you take a lesson from our instructors, you will be benefitting from over 230 years of collective skiing experience!  In other words, we love to ski – and we love to teach!  All of our instructors have been involved in many aspects of the sport – from the Club's Jackrabbit program to the adult lessons which have been offered free to our members for over 12 years.  In addition, Wayne and Peter have acted as wax technicians for the race team, and have taught many waxing workshops.  Over the years, we've attended coaching and technique clinics to stay current.  In addition, two instructors (Robert and Dee) are, or soon will be, CANSI (Canadian Association of Nordic Ski Instructors) certified.  The CANSI program emphasizes technique and teaching in all the fundamentals of the sport.  Each of our instructors can help you become a better skier.
A waxing clinic will be offered next Wednesday evening, December 18 from 6:30 to 8:30.  The limit is 8 persons, so please rsvp to Peter via email at
peter.uhlig@shaw.ca
Meet at the blue Clubhouse and bring your skis and wax. It will be hands-on, do your own after demonstrations.