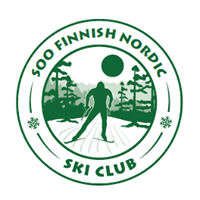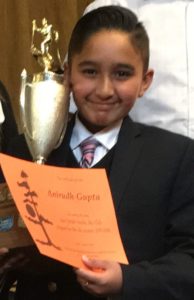 The 2017 Soo Finnish Nordic Ski Club Awards Banquet was hosted on Sunday, April 9th, at Grand Gardens North.  Two hundred and eighty eight people were in attendance and celebrated the completion of another wonderful cross country ski season.
Doors opened at 4PM with Bunnyrabbit and Jackrabbit award package pick up.  Dinner and presentations, led by our Master of Ceremonies and ski team members Eamon MacDougall and Sebastian Gingras, began at 5PM.  Our youngest athletes were entertained at the arts and crafts table; thank you Carlyle, Bishop, and Hall families.  Throughout the evening, people were welcome to bid on silent auction items; thank you to the Reich, Carlyle, Peake, Bellinger, and Barrett families for organizing the silent auction, which generated $1436.50 in profit for our ski teams.  Everyone enjoyed the door prizes – a definite crowd pleaser; thanks to the Track Attack team for calling out the winners.  Appreciation goes out to the many club members and community partners who donated to our event, including:  3 Birds, Algoma Bicycle Company, Boston Pizza, Domino's, Fit Bodies, Fit Minds, George Leach Centre, Hiawatha Highlands, Ithaka, Sault College, Soo Finnish, Velorution, and Wacky Wings.
The evening's presentations included a 2000+ photo slideshow organized by Darren Lindquist, a Jackrabbit program video by David Patterson, and a video highlighting our Track Attack program by Don Hall.  Thank you Darren, David, and Don.  Videos and some of the photos are available by clicking on the website's Photos tab. The banquet program can be accessed online.  ( Banquet Program )
Congratulations to our club award recipients for the 2017 season.
Youth Joie de Ski Awards: Nolan Park, Benjamin Campbell, Maria Marone, Lucy Curran, James Elgie, Jasper Tchir, Allie Kitchen, David Marone III, Liam Robertson-Ip, Jadon Pino, Seth Bishop, Ava Meadows-DelBel, Rhiannon Barbeau & Victoria Grasley, Waylon Rushon Martineau, Eamonn Rushon Martineau
Graduating Bunnyrabbit Awards:  Lily Parniak and Luca Capisciolto
Kinsmen Trophies:  Akela Sand and Anirudh Gupta
Golden Ski Award:  Declan MacDougall
Coach's Award:  Eamon MacDougall
On Target Award:  Derek Rouleau
Junior Golden Ski Award:  Martin MacDougall and Jak Cameron
Junior Coach's Award:  Micah Peake
Jim Patterson Memorial Award & Joie de Ski Pin:  Jamie Curran, Phil Dopp, the Sand family – Akela, Cina and Zarek, teen coaches – Julie Delorme, Michelle Delorme, Catherine Quon, Charlotte Reich, Ella Santana, Courtney Gingras, Michael Shepherd, Nathan Hallet, Raili Kary, Derek Rouleau, and Christopher Zayachkowski
Kevin Allan Riutta Award:  David Baldwin
Janet Rodger-Anderson Award:  Betty vanKerkhof
President's Award:  Scott Capell