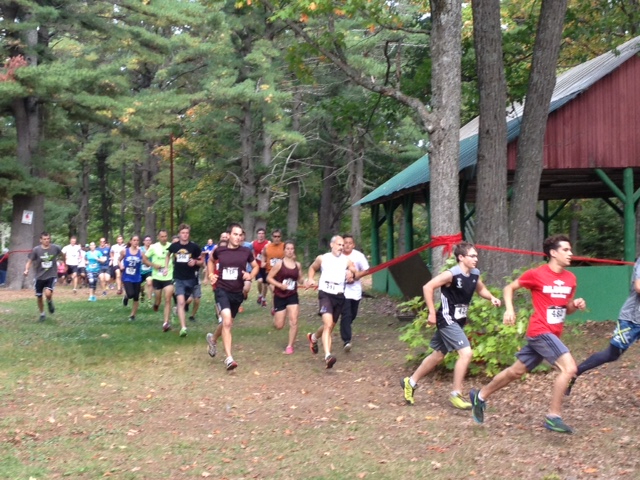 The 32nd annual Trail Trot will take place at Kinsmen Park on Sunday, September 24.
Volunteers have stepped forward to organize the event and keep the annual fall trail running race going. Because the date is rapidly approaching there will be some changes to the event this year.
Race Information
The 2 km race will start at 1 pm
The 10 km race will start at 1:45 pm
The 5 km race will start at 2 pm
The 2 km event will take place on the Kinsmen Loop. The 2km trail is mainly flat with two small hills.
The 5 km and 10 km events take place on the Crystal Creek Trail. The 5 km race will be one lap around the trail and the 10 km race will be two laps around the trail.
Races will start at the ball field at Kinsmen Park and finish at the Soo Finnish Nordic Clubhouse (blue building).
There will be one water station mid-way through the 5/10 km trail.
Post race refreshments will be available near the finish line.
Changes for 2017
T shirts will not be available for the 2017 event. This will result in a reduced rate for 5km and 10km race participants.
All runners will race as individuals. School teams are still encouraged to enter the race but their results will be entered in age group categories.
All race registrations will be online through Zone 4.  There will not be paper entry forms.
Race registration will be open online until 9 am on Sunday, September 24.  There will not be an opportunity to register on site on race day.
Bib number pick-up will only take place at Hiawatha on race day. We will not be setting up at Station Mall the day before the race to hand out race numbers and pre-register runners.
Awards
1st overall Male and Female 2 km, 5 km, 10 km
1st, 2nd and 3rd Male and Female in each group
Entry Fees REGISTER EARLY TO SAVE $$$
On or before Friday, September 22
September 23 and 24th
2 km $12
5 km & 10 km $18
Race Number Pick-up – Sunday, September 24, 2017
Race number pick-up will  take place at the Soo Finnish Nordic Ski Club clubhouse (blue building) on Landslide road on race day, Sunday, September 24.
The desk will open at 11:00 am on race day, September 24.
Please pick-up you race number at least 20 minutes before the start of your race
More information will be posted on this website as it becomes available.