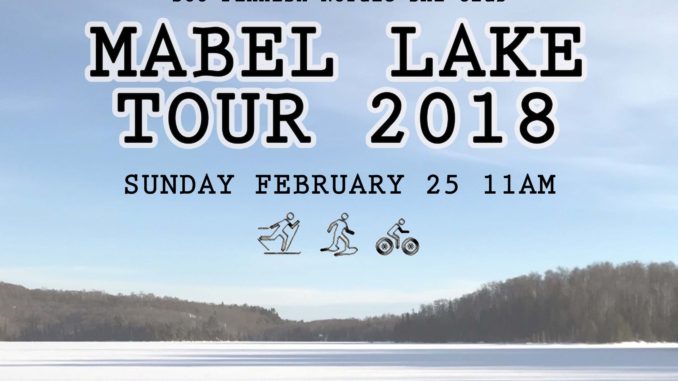 The Mabel Lake Tour is a fun recreational event for classic-technique cross country skiers, fat bike riders, and snowshoers on groomed back-country wilderness trails. Participation is open to the public and SFN club members.
There are two trail-head options giving round-trip ski distances ranging from 6 to 25 km: the Half-Mabel 6 km, the Kin-to-Creek 12 km, the Connor-Mabel 14 km, the Full-Mabel 19 km, and the Uber-Mabel 25 km. Two rest stops along the trail provide an opportunity to enjoy a warm drink, delicious snack, and some good conversation. Please note that snowshoe participation is limited to Connor Road trailhead.
Lunch is provided with each registration and includes Café Natüra's Sloppy Joes (vegetarian option available), refreshments, and desserts. There is a limited quantity of food available; register by February 20th to avoid disappointment.
This event is kid friendly! Riddles will be on the Half-Mabel 6 km trail option and marshmallows are available to roast at the rest stop campfires.
REGISTRATION IS NOW OPEN on Zone4 and in-person at the Kinsmen Centre, Hiawatha Highlands.
Mabel Lake Ski Tour Brochure 2018
SFN members: Adult $15, Student $10, Child $8
Non members: Adult $20, Student $15, Child $10
HST included
Schedule:
Check-in at Kinsmen Centre starts: 10AM
Mass start: 11AM
Individual start: 11AM – 12PM
Trail support removed: 2:30PM
Lunch available: 1PM – 3PM
Please see the brochure for more information.
Questions? Contact jackrabbits@soofinnishnordic.com