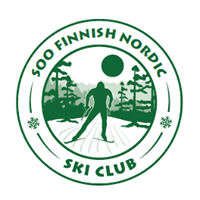 The Soo Finnish Nordic Ski Club's Annual Awards Banquet was an evening of celebration among our ski families and friends on Sunday, April 8, 2018 at Grand Gardens North. Over 300 people attended, including special guests from the Kinsmen Club and the Hiawatha Highlands staff.
Thank you to all those who donated to the silent auction; it is fun and a great reason to get up out of our seats, all to support our ski team. The auction's success of over $1200 could not have been possible without our community's generosity; please support our local businesses throughout the year! We would also like to thank Grand Gardens North for excellent food, service, and a lovely venue.
We are pleased to announce the 2018 award winners – Congratulations!
Youth Joie de Ski Awards: Miia Tanninen, Kobe Bodnar, Xiaokang Cui, Ty Capisciolto, Lyra Baldock, Lily Parniak, Kiera Francis, Eli Clowater, Alexander Bravener, Claire Parks, Emilia Parco, Maggie Lawson, Kavi Giroux, Gus Morin-Strom, Ava Phillips, Celeste Schoahs, Trysten Kahtava, Anna Towle
Graduating Bunnyrabbit Awards: Aurora Aho and Nolan Parks
Kinsmen Trophies: Seth Bishop and Kate de Beer
Junior Golden Ski Award: Zarek Sand
Junior Coach's Award: Micah Byman
Senior Golden Ski Award: Gavan Barrett
Senior Coach's Award: Gareth Bellinger
Jim Patterson Memorial Award & Joie de Ski Pin: Peter Uhlig and Monique Wester, the Tchir Family, the Duncan Family, and Mark Crofts
Kevin Allan Riutta Award: Ray Gingras
Janet Rodger-Anderson Award: Wayne Westman
President's Award: Cassandra Nielsen and Matthew Towle