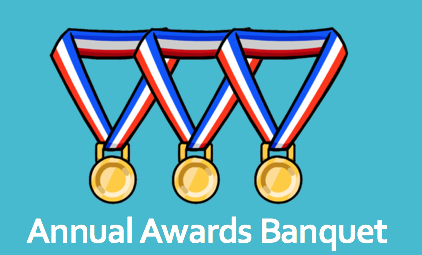 Where:  Northern Grand Gardens,1324 Great Northern Rd.
When:  4pm doors open for Jackrabbit report pick up, 5pm dinner is served
Dinner is pasta & meatballs, roast chicken & potatoes, vegetables, salad, dessert and coffee/tea.  Please let us know if you have any food allergies/sensitivities.
$27  Adults 
$15  10 & under (not in Soo Finnish Programs)
FREE  3 & under
FREE  All Kids in SFN Programs
If your child is in any of our programs (Jackrabbit, Bunnyrabbit, Racing Rabbit, Track Attack, Jr or Sr Ski teams), you do not have to pay for a ticket for them but you must register them so that they will have a seat at the banquet as well as a meal!
Tickets will be available after March 9 at Hiawatha Highlands and on Zone 4 Tickets
Award Nominations
Our virtual trophy case has information on the four major awards that are given out annually at the banquet and also lists all of the previous winners.  If you would like to nominate someone for one of our awards, we ask that you please submit your nomination by Monday March 11, 2019.  A Nomination Form may be filled out by any Soo Finnish Ski Club Member.
Silent Auction 
There will be a silent auction at the banquet again this year, with proceeds going to support our ski teams.  Please contact jackrabbits@soofinnishnordic.com if you have any items to donate or can help with the silent auction.
New to our silent auction?  You'll love it!  It occurs during the banquet at Northern Grand Gardens and there is an assortment of items you can bid on:  gift certificates, ski gear, baked goods, artwork, toys, jewelry, and the list goes on.  There is something for everyone.