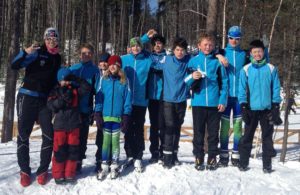 Junior Ski Team 2017/2018 Season Online Registration

September 2017 to March 2018
$300
Soo Finnish Nordic Ski Club Family membership is required for participation ($64/year)
Register online by Monday, November 13, 2017 to take advantage of the EARLY SEASON PRICING. Program fees increase by $20 (before processing and taxes) on November 14, 2017
Fall Dryland starts in September, Saturdays 10 am – 12 noon at Hiawatha Highlands
On-Snow December 16, 2017 – March 10, 2018
Tuesday and Thursday evenings 6:30-8:00pm and Saturdays 10:00-12:00 at Hiawatha Highlands
Hiawatha Highlands Trail passes are not required for children 12 and under
All  Junior Ski Team members abide by the  SFNSC Race Team Policy 2013
Fee includes:
a ticket for the participant to the end of year club awards banquet
all sessions for the group registered in
enrollment  in Cross Country Canada skill development program (includes a toque or buff)
coaching by coaches trained in the Sport Specific  NCCP (Cross Country Canada)
includes coaching and wax for all races on the Junior Ski team schedule
The Soo Finnish Nordic Ski Club offers a program that follows the guidelines as prescribed by both Cross Country Canada and Cross Country Ontario.
Junior Ski Team – Ages 11-14
The objective of the Junior Ski Team is to give young athletes between the ages of 11 and 14 their first taste of cross-country ski racing. It is an introductory racing program with a focus on Learning to Train and introducing racing in a supportive environment. The "racing team" focus of this group will present young skiers with an opportunity to support one another as a team, while the competition element will provide motivation and reward for their hard work.
Participation in the Summer Dryland Training  Progam is encouraged.
Athletes travelling to races on the Junior Ski Team Schedule are expected to travel to these races and to lodge with their parent/guardian.
Athletes who  travel to out of town races with the Senior Team Schedule can choose to travel with their parents and will be expected to pay a portion of coach/wax
tech support costs as well as a wax fee of $20 per race.  Those athletes travelling with the Senior team and without their parents will also be responsible for a portion of the
chaperone fees. .