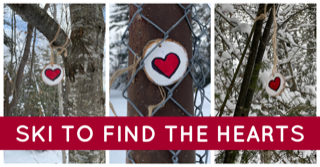 Hello Soo Finnish Club Members and Friends:
Thanks to all who participated in the Hiawatha Invitational VIRTUAL Time Trial. It's not too late to submit your photo to jackrabbits@soofinnishnordic.com – email us before Tuesday, Feb 9 and your name will be put in a draw for some prizes. Winners will be contacted by email.
We have a new club and provincial challenge for our members, see below for details.
Club Challenge
Starting today, Monday, February 8 until Monday, February 15, our trails are filled with love! Ski any of our trails and keep your eyes open for small painted hearts hung on trees, light posts, and signs. Find and count how many hearts you see along the trail and submit a photo of yourself near one of these hearts to jackrabbits@soofinnishnordic.com.
Hearts can be found on the following trails:
Kinsmen Lighted 2 km, 1 km, and ½ km
Crystal Main 5 km
Pinder Main 4 km, Mockingbird, White Pine, and Sugar Bush Extensions
Red Pine Main 5 km
Hint: There are more than 50 hearts in total spread out on all the trails.
FAQs:
Do I need to ski all the trails to participate? Not at all, ski any of the trails to participate.
Can I take one of the hearts? Please refrain from taking or touching the hearts, so that everyone can participate in our challenge safely.
Will there be prizes? Yes, definitely. Please submit a photo before Tuesday Feb 16!
Provincial Challenge
On February 14, skiers across Ontario are doing a "Kilometre Burst Challenge". You and a partner can compete to ski as many kilometres as you can between 7:30am-7:30pm on Valentine's Day.
FAQs:
Can my partner be in a different club or region than me? YES.
Do my personal KMs for this challenge also count towards the general KM challenge? YES
Where do I record mine and my partner's KMs for this challenge? The V-Day tab on the regular Cross Country Ski Ontario kilometre tracking spreadsheet.
With all of our challenges, and skiing in general, please remember…
Although Ontarians are required to remain at home, there is an exception for exercise with restrictions to reduce the number of daily contacts with those outside an immediate household.
Before participating:
Complete a self-assessment prior to leaving your home. Stay home if you are feeling unwell.
Ski with your household. Gathering size is limited to 5 people.
Have a mask readily available to wear.
Maintain a minimum of 2 m distance from others.
Refrain from congregating on trails, trailheads, and parking lots.
Have your trail pass visible.