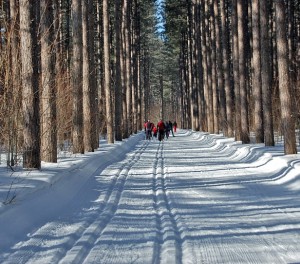 Ages 10-14yrs 
Fee includes:
What you will need:  Track Attack Equipment
Note:  We are unable to provide one-on-one supervision, specific medical support, or guarantee an allergen-free environment. Due to the extreme conditions of cross country skiing, and for the safety of all of the participants, parents are expected to support the volunteer coaches by accompanying their skier at times to promote success.
Program Description:  Participants are skiers aged 10-14 years who have had some previous Jackrabbit experience and are capable of skiing all trails at Hiawatha Highlands.  The emphasis is on skill refinement, improvement in fitness level, and having fun with friends.  Track Attack skiers may wish to participate in club events and races.  Classic skis, boots, and poles are required to participate.  Wax skis are required and parents are encouraged to attend waxing clinics to learn how to properly wax their children's skis. Skate skis are also recommended in order to continue to develop skate skiing technique.  At any time during the Track Attack program, skiers who wish to ski and train more frequently are encouraged to join the Racing Rabbit or Ski Team Programs.
Participation in the Dryland Training Program is encouraged.
The Soo Finnish Nordic Ski Club offers a program that follows the guidelines as prescribed by both Nordiq Canada and Cross Country Ski Ontario.