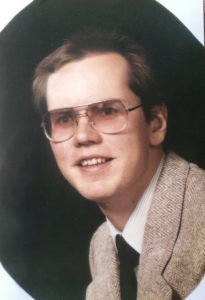 Kevin loved to ski! Even though his skiing was affected by his asthma, in the 70s before puffers changed the lives of asthmatics, he tried his best and even raced on the Soo Finnish racing team.
He came from a family of skiers and started to ski at the old Hiawatha Lodge trails before cross country skiing was really a popular sport. Skiing in those days was an adventure with narrow trails and a few large trees as obstacles on the steep down hills.
Kevin was always willing to help, whether it was cleaning some of the new trails we now enjoy, working at races, or helping with the Jackrabbits. In those days the Jackrabbit program, as we know it now, was just being developed by Cross Country Canada, but Soo Finnish Nordic Ski Club was one step ahead and had already developed their own program.
He was one of the first instructors with Cross Country Algoma, who traveled to local schools with a van load of equipment to teach young children the art of cross country skiing. Kevin loved being with the children who looked forward to each visit of the van and the lesson they would learn.
For those who knew Kevin during his brief life, he was a joy to be around, with his outgoing personality and quick smile.
Kevin passed away in 1985 at the age of 24.
The Kevin Allan Riutta Award is given annually to that person or persons who through example, endeavour and leadership promotes and fosters cross country skiing among the youth of Sault Ste Marie.
Past Recipients of the Kevin Allan Riutta Award
2020  Anna Reich
2019   Vivian Hall, Don Hall
2018   Raymond Gingras
2017   David Baldwin
2016   John Santana, Diane Charron-Bishop
2015   Cassandra Neilsen, Mathew Towle
2014   Hiawatha Highlands Staff
2013   Maxine Orr
2012   Colin Templeton
2011    Joanna MacDougall, Amy Wheeler Reich
2010   Larry Tomie
2009   Carl Rosso
2008   Kevin Grant
2007   J.J. Hilsinger
2006   Chris Kitzmen, Wendy Steele
2005   Peter Uhlig
2004   Jim Maxwell
2003   Michael Keating
2002   Dennis Paradine
2001   Dee Paterson
2000   Sharon Cuddy, Lyn Rosso
1999   Mary Ann Hayman
1998   Rich & Sue Greenwood
1997   Ted Sutton
1996   Bonnie & Rick Yurich
1995   Virve Manniste-Squire, Jan Duggan
1994   Helen Lindfors
1993   Matt Kommusaar
1992   Allan Spurr
1991   Wayne Westman
1990   Jim & Dee Patterson
1989   Paul Niemi
1988   Melba Kinnunen
1987   Kitty Dustin
1986   J.J. Hilsinger
1985   Heikki Kinnunen