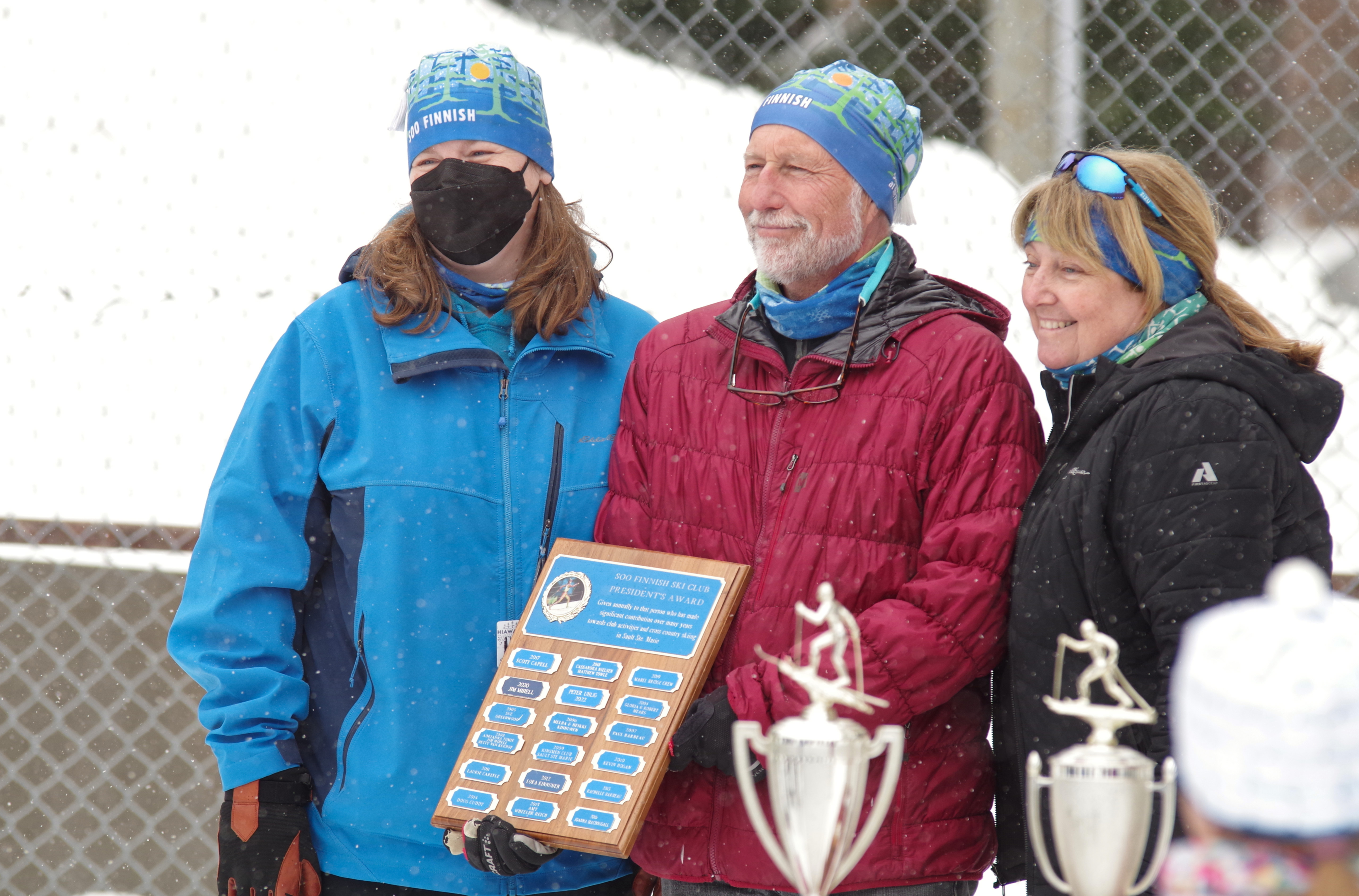 The 2022 Soo Finnish Nordic Ski Awards Banquet was hosted outdoors on Saturday, April 2, 2022 at 11:30am at Kinsmen Park. Families were encouraged to ski in the morning (trail conditions were fantastic) and return to the Kinsmen Centre for a snack of chili with bun, drinks, and treats while listening to the presentation on the ball field.
Many participants accepted their awards on skis – a first for our Club.
The awards ceremony signifies the end of the organized season and highlights the success of all of our youth, volunteers, and community.
This winter's main challenges were navigating pandemic safety and multiple below -18°C session cancellations. Despite these issues, the trails saw high usage with strong numbers in Club membership and trail passes. The winter spent at Hiawatha Highlands with friends and family is a very special time. A big thank you goes out to everyone who makes this possible.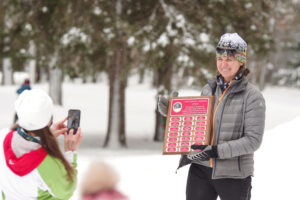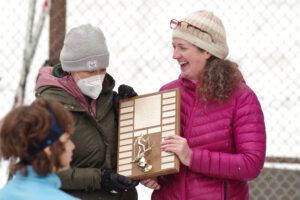 Photographs by M. Purvis
Congratulations to the 2022 Award Recipients!
Jim Patterson Memorial Award 'Joie de Ski' Pin: Isla Sinclair, Solomon Suraci, Romy Doucet, Owen Teresinski, Isaac Coutu, Zoe Bumbacco, Claire Cutler, Hadley Jones, Kohen Paat, Sawyer Johnston, Brody Wilson, Emmeline Clowater, Evelyn Teresinski, Declan McLarty, Violet Schamp, Theo Swiderski, Emma Phaneuf, Tiberious Schofield, Keira Francis, Cash Lajoie, Jenna de Beer
Kinsmen Award Most Promising Female Jackrabbit: Gwendolyn Tchir, Annie Clowater, Aurora Aho
Kinsmen Award Most Promising Male Jackrabbit: Benjamin Campbell, Xiaokang Cui
Racing Rabbits Lock City Dairies Smoooth Like Buttah Award: Neve Purvis
Graduating Racing Rabbits Teapot Award: Eli Clowater
Peanut Butter Awards: Arabella MacLachlan and Jasper Tchir
Junior Golden Ski Award: Oliver Benac
Junior Coach's Award: Taylor Nieson
Senior Golden Ski Award: Kate de Beer
Senior Coach's Award: Trysten Kahtava
Jim Patterson Memorial Award & 'Joie de Ski' Pin: Kelly Magill, The Clowater Family, The MacLachlan Family, The Kahtava Family, The Nieson Family, Graham Coulombe, David Thomlinson, Andrew MacKay
Kevin Allan Riutta Award: Sarah Butler & Kerith Slagel
Janet Rodger Anderson Award: Paul de Beer & Jodie Stewart
President's Award: Peter Uhlig