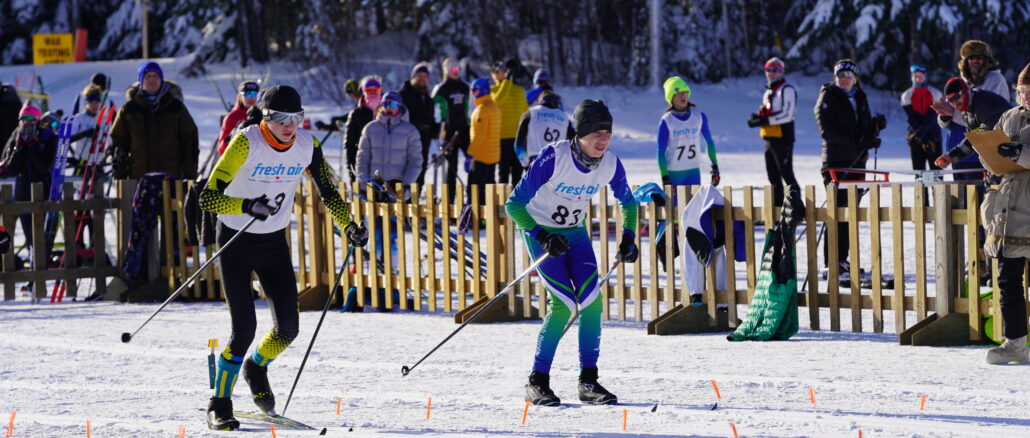 Soo Finnish represented at Ontario Winter Games
Congratulations to the following eight SFN ski team members who will be part of the Northern Ontario team at the 2023 Ontario Winter Games in Renfrew on February 9-11. Ski fast and have fun!
Rhiannon Barbeau, Oliver Benac , Myka Broad , Kate de Beer, Ryan Elgie, Kai Foster, Mateo Ivorra, Taylor Nieson
Ski teams representation at provincial races
Congratulations to all our racers who skied under the Soo Finnish banner at Ontario Cup #1 at Nakkertok Nordic (Cantley QC) in December: Trysten Kahtava, Kate De Beer, and Jenna De Beer. Results from Ontario Cup #1
Congratulations to all our races who skied under the Soo Finnish banner at Ontario Cup #2 at Lappe Nordic (Thunder Bay) in January: Erik Kary, Mateo Ivorra , Anna Towle, Thomas Towle, Kate De Beer, Jenna De Beer, Oliver Benac, Jasper Tchir, and Gwendolyn Tchir.   Results from Lappe Ontario Cup #2
Congratulations to Jasper Tchir for the silver medal in U14 Boys 4km Mass Start Free and to Gwendolyn Tchir for the bronze medal in U12 Girls 4km Mass Start Free.
We have 39 (!!!) skiers registered to participate in Ontario Cup #3 at Walden Cross Country (Naughton) on January 21-22. Stay tuned!