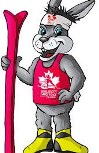 Sauce Headwear and Cross Country Canada are looking for next year's best Jackrabbit toque design to be worn by 11 thousand children across the country.  We need our Bunnyrabbits and Jackrabbits to get their markers out and start drawing.
Download the form below…
Jackrabbit Toque Design Contest 2017
There will be copies at the KinCentre on Saturday mornings along with a submission box.
Entries will be scanned and posted on SFN's Facebook page and later sent to CCC for the contest.