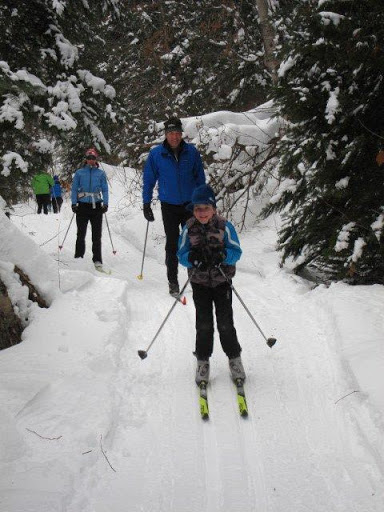 The Mabel Lake Ski Tour is a fun, recreational, classic technique ski event on groomed back-country wilderness trails. Participation is open to the public and SFN club members. There are two trail-head options giving round-trip ski distances ranging from 6 to 25 km: the Half-Mabel 6 km, the Kin-to-Creek, 12 km, the Connor-Mabel 14 km, the Full-Mabel 19 km, and the Uber-Mabel 25 km. Two rest stops along the trail provide an opportunity to enjoy a warm drink, delicious snack, and some good conversation.
Lunch is provided with each registration and includes Café Natüra's Sloppy Joes (vegetarian option available), refreshments, and desserts. There is a limited quantity of food available; register by Friday, February 17th to avoid disappointment.
This event is kid friendly! Riddles will be on the Half-Mabel 6 km trail option and marshmallows are available to roast at the rest stop campfires. Participants will receive a unique event sticker, too.
REGISTRATION IS NOW OPEN on Zone4 and in-person at the KinCentre, Hiawatha Highlands.
Mabel Lake Ski Tour Brochure 2017  
Mabel Lake Ski Tour 2017 Poster
SFN members: Adult $14, Senior $10, Student $10, Child $8
Non members: Adult $18, Senior $14, Student $14, Child $10
Schedule:
Check-in at KinCentre starts: 10AM
Mass start: 11AM
Individual start: 11AM – 12PM
Trail support removed: 2:30PM
Lunch available: 1PM – 3PM
Please see the brochure for more information.com
Questions? Contact jackrabbits@soofinnishnordic