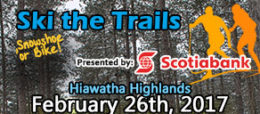 Ski the Trails is a chance to challenge yourself to ski as much as you can while raising money to buy essential equipment for our hospital and supporting children's programs at Soo Finnish.
Raise $50 in pledges as an individual or $100 for a family with 2 adults
Get pledge forms or raise funds on line  Ski the Trails
Check in at Kincentre 8am-11am Sunday Feb 26th
Ski, bike or snowshoe the trails between 8am-1pm
New this year!! Fat Bike on Crystal and Red Pine system!
Join us from 12-2pm to celebrate our achievements at a free pancake breakfast at the Water Tower Inn sponsored by Anthony Pucci – RBC Wealth Management 
Then relax with a free day pass at Club Cabana where you can enjoy the hot tubs and sauna after your hard work on the trails
Our hospital must fundraise to purchase its equipment. We all are affected by the quality of the equipment at our hospital. Let's help keep it new and updated!
Join us in saying "I Ski Because I Care"  
Link to article in the Sault Star Thursday, February 16.