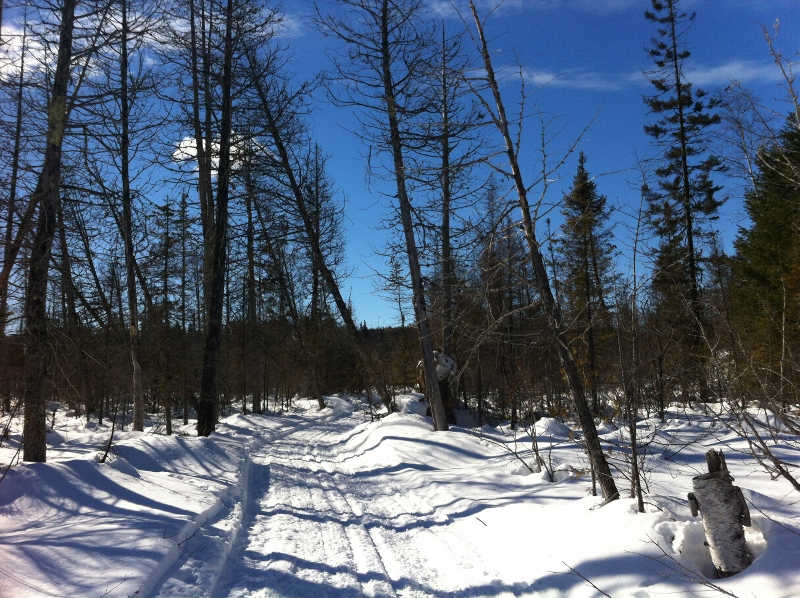 The sunny warm weather brought over 70 skiers to participate in the Mabel Lake Ski Tour on Sunday, February 19th, 2017.
Trail volunteers and grooming staff were able to conquer "Mabel" this year just a few days prior to the event; once again, "she" reminded us of who has the upper hand.  With mild temperatures and the abundance of snow this year, ice quality was poor leading up to the event; however, a suitable ice bridge was established just in time to allow the more adventurous skiers to reach the lake.
There were some new "Full Mabel-ers" and "Half Mabel-ers" this year, and many enjoyed the great conversation and snacks at both the creek and lake.  The sun's rays were so warm that the chocolate chips in the cookies were melting.  Track Attack coaches and athletes were new to the event – well done!  Thanks goes out to the Ski Patrollers Scott and Kevin, and to Sault College student volunteers Clayton, Andrea, and Taylor for providing trail support the day of the event.
Many jackets, sweaters, and even shirts were taken off by the time skiers reached the KinCentre for a tasty sloppy joe/jane lunch, catered by Café Natura, and served by the wonderful Vivian and Gladys.  The butter tarts and cinnamon buns concluded the meal on a sweet note.
It's always an accomplishment to ski the Mabel Lake trail and an absolute pleasure to do it with our skiing families and friends.  This event makes memories and allows us to reminisce of great times and fantastic people.  Many thoughts and memories were of the Cuddy family.
Thank you to everyone who participated and made the 2017 Mabel Lake Ski Tour happen.