Soo Finnish Nordic hosts a time trial each year to bring our community together, celebrate participation and individual achievement, and introduce our skiers to the exciting world of racing! Although there won't be any big crowds or hot grape at the finish line this year, we hope you can share some photos, cheer (bring your own cowbell), and have some fun this week.
The CLUB Challenge for January 30 to February 6: Hiawatha Invitational VIRTUAL Time Trial
Refer to the chart below for your suggested age/level specific sprint distance and trail. You are welcome to do any distance/trail at any time between Jan 30 – Feb 6. We recommend pre-skiing to familiarize yourself with the course.
Self-time, or have a member of your household time you (minutes and seconds), and submit your course information (date, distance, technique, trail, and time) AND a photo (pre or post-race selfies if you're on your own) to jackrabbits@soofinnishnordic.com. Photos will be put in a collage to share on our website and social media channels.
For our young skiers, this is a classic technique event, but our Jackrabbits Level Four and up are encouraged to do their race course a second time in freestyle technique (skate). All members of your household are welcome to participate.
Challenge yourself! Challenge your family! Challenge your friends!
The suggested race courses above start and end at the Blue Clubhouse.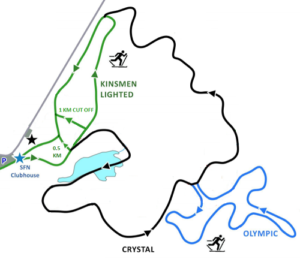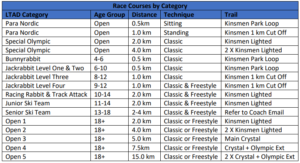 Please remember…
Although Ontarians are required to remain at home, there is an exception for exercise with restrictions to reduce the number of daily contacts with those outside an immediate household.
Before participating:
Complete a self-assessment prior to leaving your home. Stay home if you are feeling unwell.
Ski with your household. Gathering size is limited to 5 people.
Have a mask readily available to wear.
Maintain a minimum of 2 m distance from others.
Refrain from congregating on trails, trailheads, and parking lots.
Have your trail pass visible.