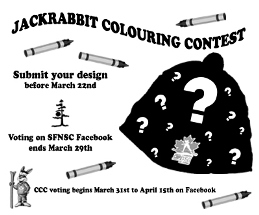 It's that time when the folks at Cross Country Canada (CCC) start planning for next year's Jackrabbit season by hosting the JACKRABBIT COLOURING CONTEST to design the program's toque.  The winning pattern will be worn by 11 000 skiers across the country!
Soo Finnish Nordic Ski Club (SFNSC) Jackrabbits are encouraged to use their artistic skills to participate in this contest and make our club proud!  This year, YOU can decide which toque designs get sent to the CCC selection committee and which finalist wins.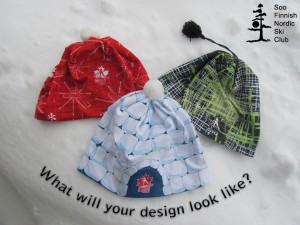 CCC's criteria for the contest:
Toque contestants must be currently enrolled in a CCC Jackrabbit program aged 4-10 years.  Contestants may draw their design with one colour of marker, pencil crayon, or pencil.  Please note that this colour may, or may not be used to represent the winning design when it comes time for production of the toque.  The final colour choices will be made by CCC.
Here's how to participate:
 Download the form  SFNSC 2014 Toque Contest or pick-up a copy at the Kinsmen Centre.
Design and colour a toque (following the CCC criteria stated above).
Submit your design anytime before 5 PM on Saturday, March 22, 2014, at the Kinsmen Centre.
"Like" the SFNSC Facebook page and "like" your favourite designs. You may vote for as many designs as you wish.  Club voting ends at midnight on Saturday, March 29, 2014.  Five designs with the most "likes" from our club will be submitted to the CCC's selection committee, who will review entries from across the country
Like" the CCC's Facebook page.   Ten finalists will be posted on the CCC Facebook site and voting will run from March 31 to April 15, 2014.   The design with the most "likes" will be used as the 2014-15 Jackrabbit toque!
Good luck and let the colouring begin!