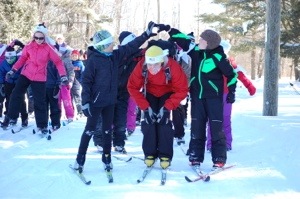 The Bunnyrabbits, Jackrabbits and Track Attack programs will be starting soon.   In order for your child to enjoy each ski outing, she/he must be dressed comfortably, warmly and be fitted with the proper equipment.
Clothing Requirements – Please dress your child appropriately. Keep in mind that what level they will be skiing. A general rule of thumb is that as they get into the higher levels, your child will be on the move much more, thus generating more heat. Layering is the best approach, excess clothing can be removed as needed.

Equipment – You will need cross country skis, cross-country boots that have the same binding system as the skis, and poles.

Waxing – Waxless skis are recommended for beginners. If you are using waxable skis, please have the skis waxed for each lesson. A wax clinic will be held on January 3rd.  Details will be provided on the website.

Parent Availability – Parents of younger skiers have a responsibility to inform the coaches of their availability during the lessons should their child encounter any problems.