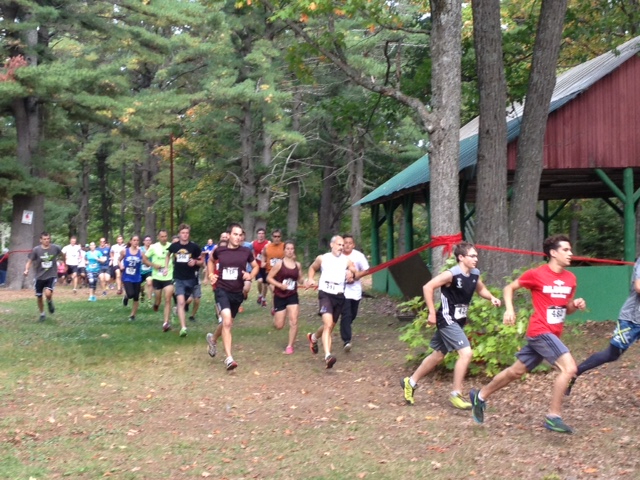 The 33rd annual Trail Trot will take place at Kinsmen Park on Saturday, September 22.  Registration is ONLINE ONLY and closes at 9AM on Saturday, September 22, 2018. Link below.
Race Options
There are three race distance options: 2 km, 5 km, and 10 km.
The 2 km event will take place on the Kinsmen Loop; it is mainly flat with two small hills.
The 5 km and 10 km events will take place on the Crystal Creek Trail. The 5 km race is one lap around the trail and the 10 km race will be two laps around the trail. There will be two water stations mid-way through the 5/10 km trail.
Post-race refreshments will be available near the finish line.
Start Times
All races are mass start on the ball field by the Kinsmen Centre/Hiawatha Ice Cream building. The finish line is at the Soo Finnish blue clubhouse.
2 km starts at 1 pm
10 km race will start at 1:45 pm
5 km race starts at 2 pm
Check-In
Race check-in and bib pick-up begins on Saturday, September 22 at 11 am at Soo Finnish Nordic Ski Club's blue clubhouse on Landslide Rd.
Please check-in to pick up your race number at least 20 minutes before the start of your race.
Entry Fees REGISTER EARLY TO SAVE $$$
On or before Thursday, September 20
September 21 and 22nd
2 km $12
5 km & 10 km $20
Please note there are no t-shirts.
Registration is on Zone4
Awards and Prizes
There will be cookie medals and door prizes.
Thanks to our sponsors and partners for their generous donations to our community!
Algoma Bicycle Company
A&W
Hiawatha Highlands
Outspoken Brewery
Pino's Get Fresh
Velorution