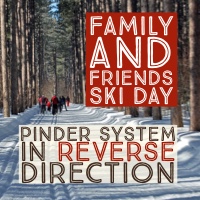 Ski the Pinder trail system in REVERSE direction on Saturday, March 9th from 10AM to 12PM. We welcome all ski trail pass holders, ski club members, Jackrabbits, and the general public to join in on the fun and celebrate the ski season. Hiawatha Highlands will be offering discounted ski rentals and trail passes for the event; bring a friend to enjoy cross country skiing, the beautiful trails, and our wonderful community.
$5 Rentals $8 Trail Pass
A campfire and trail snacks will be available at the intersection of the Mockingbird extension. Volunteer nut-free cookie donations may be dropped off at the Kinsmen Centre on Friday, March 8th or brought to the site on Saturday.  Enjoy a warm bowl of Cafe Natura's chili at the Kinsmen Centre after 11AM for $6.