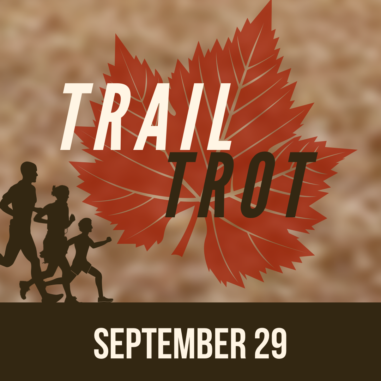 The 34th annual Trail Trot, a cross country running event, will take place at Kinsmen Park on Sunday, September 29.
The Trail Trot is open to the public.  
Registration is ONLINE ONLY and closes on Sunday, September 29 at 9AM.
Race Options
There are two race distance options: 2 km & 5 km.
The 2 km event will take place on the Kinsmen Loop and the 5 km will take place on the main Crystal Creek Trail.
There will be two water stations mid-way through the 5 km trail.
Both race courses have a variety of terrain, and ground surface includes (at times) roots, loose gravel, sand, and pavement. The 5 km course travels over a few bridges and culverts and has multiple hills.
Post-race refreshments will be available at the finish line.
Start Times
All races start and end near the Soo Finnish blue clubhouse this year.
Please note that the start will not be on the ball field by the Kinsmen Centre/Hiawatha Ice Cream building.
2 km starts at 1 pm
5 km race starts at 1:45 pm
Check-In
Bib pick-up begins on Sunday, September 29 at 11 am at Soo Finnish Nordic Ski Club's blue clubhouse on Landslide Rd. Registration is online only.
Please pick up your bib number at least 20 minutes before the start of your race.
Entry Fees REGISTER EARLY TO SAVE $$$
On or before Friday, September 27:
September 28 and 29 (until 9AM)
Please note there are no t-shirts.
Registration is on Zone4 only
Taxes and processing fees not included.
Awards and Prizes
There will be cookie medals and door prizes. Awards will be given out to the top three best times in the 5 km race.
Thanks to our sponsors and partners for their generous donations to our community!