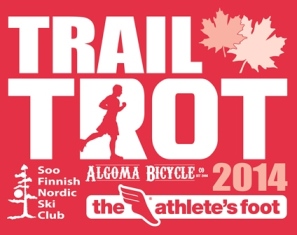 The 29th annual Trail Trot will take place on Sunday, September 21st.
Link to Location and Trail Maps
The 2.5 km race will start at 1 pm and the 5 km and 10 km races will start at 1:45 pm.  This year all 3 races will start and finish at the Sault Ste. Marie Conservation Authority (Sugar Shack) 1100 Fifth Line East.
A new 2.5 km event will replace the 2 km event that used to take place in Kinsmen Park.  The new 2.5 km trail will include part of the Pinder trail and a full loop of the Sugar Bush trail.  The 5 km and 10 km events will take place on the Pinder and Sugar Bush trails as over the past several years.  The 5 km race will be one lap around the trail and the 10 km race will be two laps around the trail.  The trail is mainly flat, with two gradual hills.  There will be one water station mid-way through the 5/10 km trail.  Post race refreshments will be available near the finish line.
Race kit pick-up and late registration will take place at the Sault Ste. Marie Conservation Authority (Sugar Shack) 1100 Fifth Line East on race day, Sunday, September 21.
New this year – Race kit pick-up and registration will also be available at the Station Mall in front of The Athlete's Foot on Saturday, September 20 from 1 pm until 4 pm.
Register early!  Prices increase on September 12 and T-Shirt availability may be limited.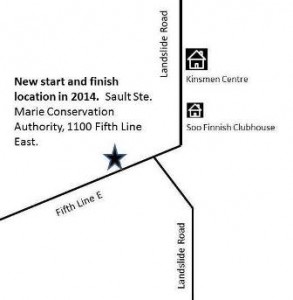 Brochures with information and a registration form will be distributed at various locations around town including, The Athlete's Foot, Algoma Bicycle and Ithaka.  The brochure can also be downloaded here.
Online Registration
Follow this link to Zone4 for online registration.
Elementary School Teams and High School Teams
Please contact the race organizers at trailtrot@gmail.com for information about team registration.